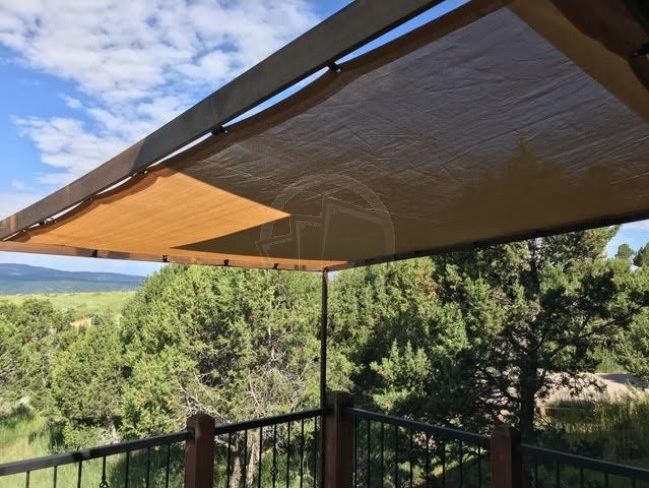 St. Joseph, Michigan, USA, 2023-Apr-10 — /EPR Network/ — With record temperatures anticipated later this year, Tarps Now® is pleased to announce the issuance of a new Guide to Outdoor Mesh Tarps which focused on educating the public on using mesh shade tarps to help create shaded "green zones" where lower temperature climate areas can be created.
This new guide focuses on uses of mesh tarps, shade tarps, and windscreens that provide protection from harmful UV rays of the sun, all while providing privacy and security when sued with fencing. In addition, supplies, materials or freight in transit made from durable materials that include polyethylene, polypropylene, and vinyl are discussed.
Most of these tarps have shade factors that extend from 40 percent up to 95 percent. Your needs will depend upon your shade requirements and other factors. Mesh Tarps are fitted with durable grommets, or eyelets, that are positioned in each corner and spaced equally apart around the perimeter ranging from 12 to 36 inches, depending on the product. The grommets are instrumental in helping secure the tarps to structures or tie them down.
You will also find that mesh tarps allow air to flow through the woven material to add comfort to the protected area while at the same time helping block any heavy winds and flying debris. In addition, as a result of the porous weave design, water will pass through while the fabric does repel heavy rainfall.
Product Information:
https://www.tarpsnow.com/86-knitted-shade-mesh-tarps.html
https://www.tarpsnow.com/shade-cloth-tarps-70-shade.html
https://www.tarpsnow.com/shade-tarps-polypro-mesh-95.html
https://www.tarpsnow.com/mesh-shade-tarps.html
https://www.tarpsnow.com/privacy-fence-screen-mesh-netting.html
https://www.tarpsnow.com/7-9-oz-hurricane-trampoline-mesh-tarps.html
https://www.tarpsnow.com/mesh-fabric-by-the-yard-roll.html
https://www.tarpsnow.com/heavy-duty-vinyl-mesh-tarps.html
https://www.tarpsnow.com/custom-fence-screen.html
https://www.tarpsnow.com/10-oz-vinyl-mesh-tarps-60-shade-multi-color.html
About Tarps Now®
Tarps Now® features an extensive online catalog of heavy duty tarps, canvas tarps, poly tarps, custom tarps, vinyl tarps and industrial divider curtains. As specialists in custom canvas and vinyl tarps, they are the low-price leaders in their category. The company offers the convenience of fast, easy, online ordering as well as a knowledgeable staff to guide customers through the specification process insuring their project will be completed on time and in budget. Tarps Now® has the experience and scale to insure customer specifications are carefully followed and expectations exceeded for every project, large or small.