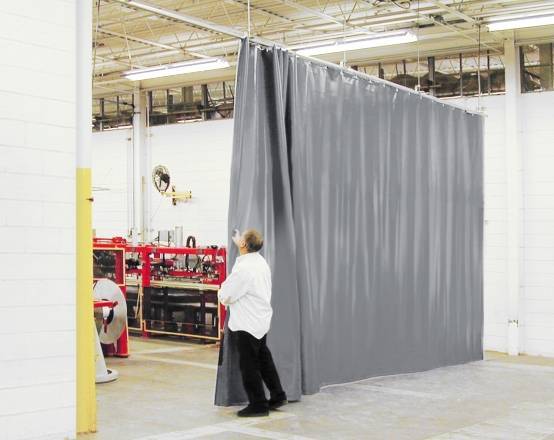 St. Joseph, Michigan, USA, 2023-Jan-19 — /EPR CONSTRUCTION NEWS/ — Tarps Now® is pleased to announce the Guide to Garage Tarps and Industrial Curtains which is focused on uses in commercial garages, auto body shops, workshops, plants, and other work areas around the United States and North America. With more than the 82 million residential garages in use by home and landowners, industrial curtains and garage tarps provide a huge range of protection for many purposes. They are made of durable fabrics that include vinyl, clear vinyl, poly, canvas, and mesh. Garages, both commercial and residential, along with other useful and productive spaces such as workshops, warehouses, studios, manufacturing plants, halls and theatres.
In the context of garages and workshops in particular, canvas tarps are deployed in a very wide variety of applications within garages, plants, warehouses and workshops. Many of the canvas tarp products on the market are made with heavy duty cotton fabric that is tightly woven. Specific waterproof and water-resistant tarps are available to generate water protection for your material, vehicles, and structures from water and other moisture issues.
Heavy duty tarps are also frequently used, as they come in many fabrics such as vinyl, clear vinyl, canvas, poly, and mesh while industrial curtains made from the same materials help provide an effective way to divide up and guard space along with the use of curtain tracking systems and hardware. Examples include the following product types:
Product Information:
https://www.tarpsnow.com/canvas-tarps.html
https://www.tarpsnow.com/industrial-tarps.html
https://www.tarpsnow.com/heavy-duty-tarps.html
https://www.tarpsnow.com/industrial-divider-curtains.html
https://www.tarpsnow.com/vinyl-tarps.html
https://www.tarpsnow.com/poly-tarps.html
https://www.tarpsnow.com/mesh-tarps.html
https://www.tarpsnow.com/custom-tarps-covers.html
About Tarps Now®
Tarps Now® features an extensive online catalog of heavy duty tarps, canvas tarps, poly tarps, custom tarps, vinyl tarps and industrial divider curtains. As specialists in custom canvas and vinyl tarps, they are the low-price leaders in their category. The company offers the convenience of fast, easy, online ordering as well as a knowledgeable staff to guide customers through the specification process insuring their project will be completed on time and in budget. Tarps Now® has the experience and scale to insure customer specifications are carefully followed and expectations exceeded for every project, large or small.
Via EPR Network
More Construction press releases